Push button switches have a simple structure, and are very widely used in the main command electrical appliances. Its working principle is to use the button to push the transmission mechanism so that the moving contacts and static contacts press through or break and realize the situation of the circuit. In the electrical automatic control circuit, press the button to send a control signal to control contactors, relays, electromagnetic starters, etc… The existing push button switch housing mainly includes plastic housing and metal housing, today we mainly introduce the performance of the metal push button switch.
Metal push button switch structure
Metal push button switch is a kind of electrical switch, used in various applications such as industrial, commercial, and residential, the most common place is the elevator, computer mainframe, and doorbell on the push button switch.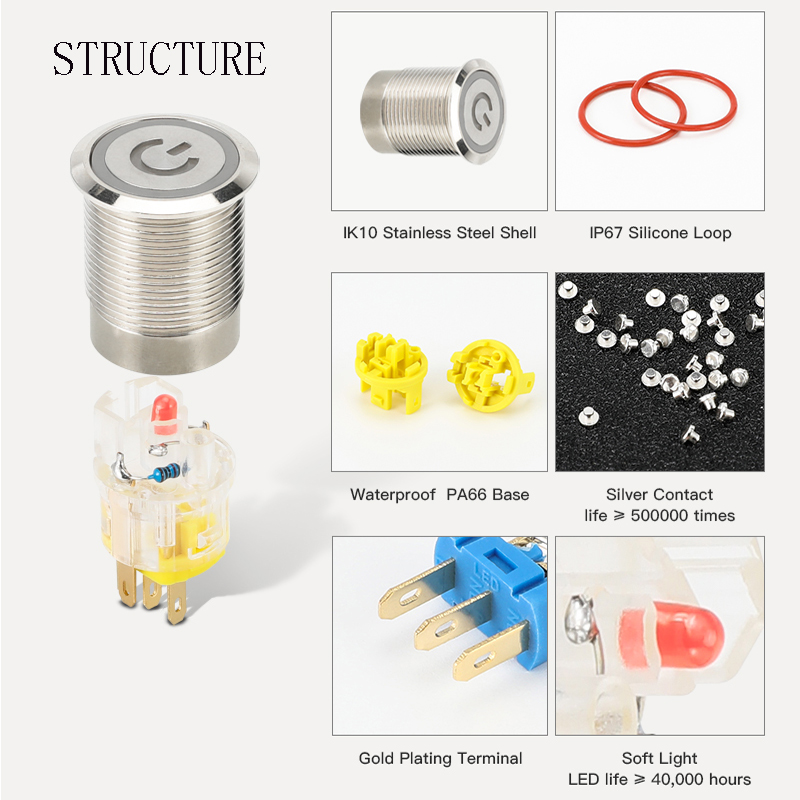 As shown in the figure, it consists mainly of a metal enclosure, spring plunger, contacts, base, and pins.
Metal push button switches types
There are many types of metal push button switches, mainly classified from the following aspects.
1. momentary type and maintained type
There are two main types of metal push button switch operations, momentary type and maintained type, which is also called latching type.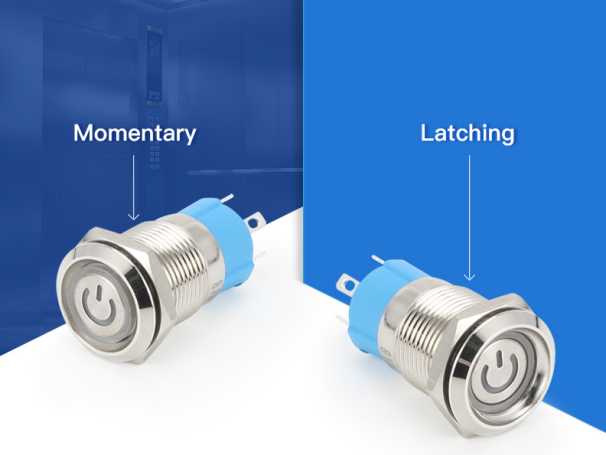 The momentary type is generally energized when the button is pressed and disconnected when released, while the button will immediately return to its original position; the latching type will lock when pressed and is also energized when the button is released, requiring another button press to disconnect.
2. Shell material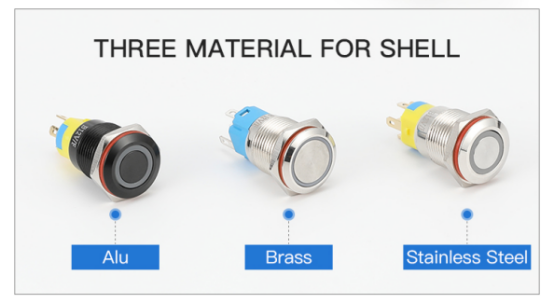 Metal push button switch shell materials are mainly three, the most conventional is copper plating type and stainless steel type. There is also a black aluminum oxide shell. Each of the metal shell textures is very good, customers can customize according to demand.
3. LED type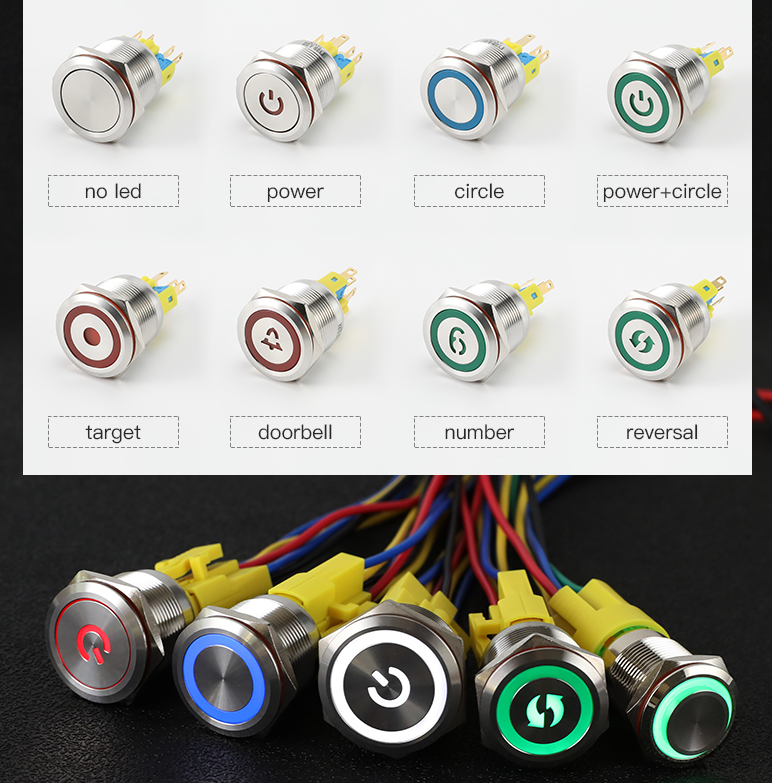 There are metal push button switches with and without lights, there are many occasions need to use LED lights, such as elevator buttons, LED light-emitting colors are red, green, blue, yellow, white, purple, and other colors, not only single-color light-emitting, there are two-color light-emitting, three-color light-emitting function.
4. Installation hole diameter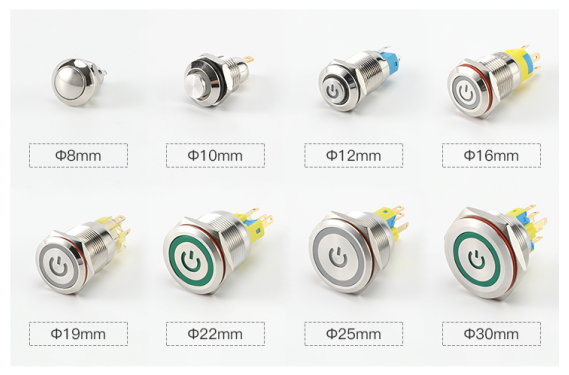 The mounting hole sizes of metal push button switches on the market are Φ6mm, Φ8mm, Φ10mm, Φ12mm, Φ16mm, Φ19mm, Φ22mm, Φ25mm, Φ28mm, Φ30mm and Φ40mm.
5. Button head shape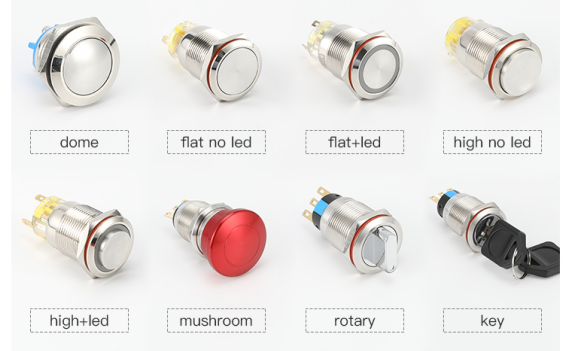 There are various types of metal push button switch head shapes, flat head, high head, dome head, mushroom head, knob type, and key type are commonly used.
6. Waterproof Rating
Most metal push button switches can reach the IP65 level of waterproof and dustproof protection, and now many manufacturers can also customize the IP67 level.
KANGERLE switch manufacturer is located in Wenzhou City, Zhejiang Province, with 30 years of industry experience, focusing on research and development, manufacturing, and sales of high-quality electronic switches. At present, we have many series of metal push button switches and indicators. We have a full range of products, including maintained type, momentary type,, LED illuminated, waterproof (up to IP67 level), protective (up to IK10 level), etc. Our products are widely used in many fields such as household appliances, the automotive industry, medical equipment, hotels, electronic equipment, etc. We have won the trust and recognition of our customers, and KANGERLE switch manufacturer welcomes domestic and foreign customers to visit our factory! For more details about metal push button switches, please visit KANGERLE official website