The waterproof micro switch is a specially designed micro switch with a small contact gap and specified operating travel
It can quickly turn on and off the circuit and has waterproof and dust-proof functions. Its working principle is basicallythe same as that of ordinary micro switches. which control the switch of the circuit through contact and separation ofcontacts. The contacts inside the switch are controlled by springs. When the switch is triggered, the spring will push thecontacts toward the circuit end. causing the circuit to connect, On the contrary, when the switch is released. the springwill bring the contact back to its original position, causing the circuit to disconnect. The special design of this micro pushbutton switch with waterproof function lies in their sealing structure, which can effectively prevent external substancessuch as water and dust from entering the interior of the switch. This can ensure the stability and reliability of the switch.In this article, we will mainly analyze the differences between the KANGERLE waterproof micro switch KW1 series anda foreign brand SPVO8 series in terms of performance.
From the above chart, it can be seen that the size and appearance of the two are equivalent, and the KANGERLE waterproof micro switch has the same performance parameters overall.
Regarding the waterproof performance, we have conducted a test in a laboratory that meets UL standards. The KW1 was continuously submerged in water at a depth of 100±0.5CM and a water temperature of 20±5°C for 72 hours, and then placed in a ventilated, dry place for 1 hour before endurance testing. The switch performance is good and still operates normally. The protective performance can reach IP67 level waterproof and dust-proof protection after wiring.
As for the operating force, KANGERLE considers that customers may need a different one, so there is also an option of 200 ± 30gf.
Electrical lifespan is an important aspect that tests the quality of electronic switches, and we have also conducted strict testing on KW1. A professional switch life test bench was operated with a voltage withstand tester (CC2670A), a contact resistance sorter (LPD), an insulation resistance tester (TH-2683), and a tensiometer (ATG-300). Set the current and voltage to 0.1A 12V DC, and test at a speed of 15-20 times/minute. The durability of the KW1 waterproof micro switch is 300000 times or more. Long electrical life can ensure that it can improve the reliability and stability of related equipment in practical application scenarios.
In terms of the lead time, the former requires a shorter time. The factory of A * * S is located abroad, and the delivery time is relatively long. KANGERLE has more flexibility and convenience in allocating delivery time.
About the product price, KW1 is also relatively low compared to SPVQ8. In addition, in terms of style, KW1 is equipped with various types of wiring terminals and posts of different sizes. If you need to solder wires, there are three types of wiring (left outlet wire, bottom outlet wire, and right outlet wire) available for selection. Our company supports customized services, with professional technical engineers providing assistance from product design to mass production. KANGERLE aims to provide customers with professional micro switch solutions. In summary, KW1 waterproof micro switch is a cost-effective domestic replacement product.
KANGERLE waterproof micro switch KW1 Features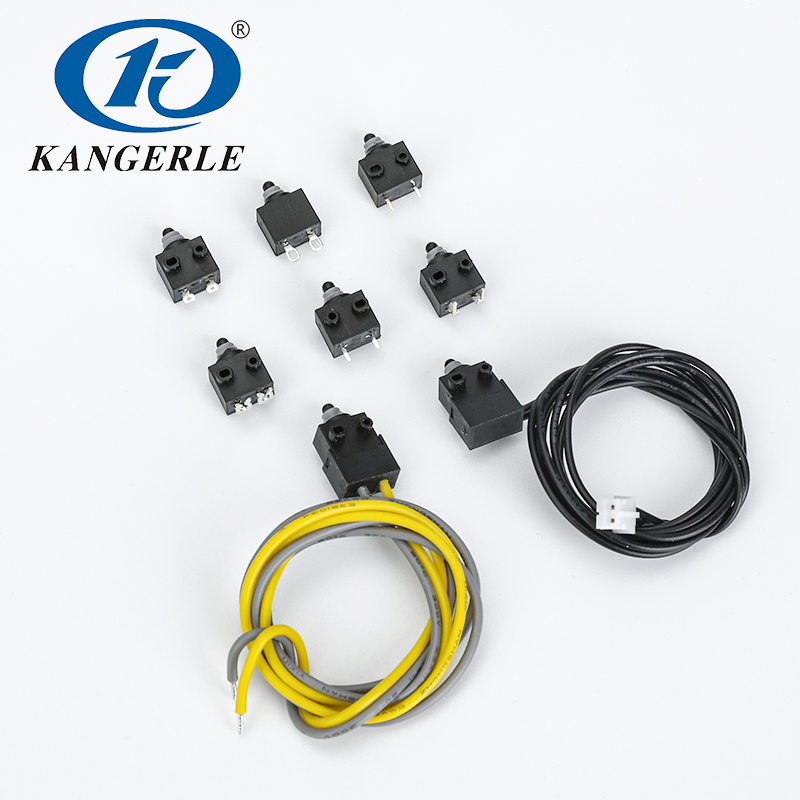 1. Good waterproof performance: The KW1 sealed micro switch adopts a special waterproof design, which can effectively prevent the infiltration of water and ensure the reliability and stability of the switch.
2. Strong durability: The KW1 waterproof micro switch is made of high-quality materials, which have strong durability and can operate stably for a long time in harsh environments.
3. Flexible operation: The KW1 waterproof micro switch has a flexible operation, can react quickly, and has high sensitivity and accuracy.
4. High safety: The KW1 waterproof micro switch has high safety performance, which can effectively avoid electrical accidents and ensure the personal safety of users.
5. Customization supported: The KW1 waterproof micro switch is equipped with various types of terminals and different sizes of posts. KANGERLE can also provide welding wires, there are many kinds of wires for your selection.  
KANGERLE waterproof micro switch KW1 applications
As an essential electronic component, micro sanp action switches have been widely used in various fields. The emergence of waterproof micro switches IP67 has expanded them in more scenarios with environmental requirements. The KANGERLE waterproof micro switch is very suitable for use in areas prone to rain or dust, can withstand harsh outdoor environments, and has good accuracy and long service life. KW1 series waterproof micro motion has been successfully applied in electric toothbrushes ninebot scooters , car door locks, motorcycle starting devices, and other products. It has achieved mass production in the factory production line and has been shipped steadily every month, which is deeply trusted and supported by customers.
KANGERLE waterproof micro switch manufacturer 
Zhejiang Kangerle Electronics Co., Ltd. is located in Wenzhou City, Zhejiang Province. It is a professional manufacturer and seller of waterproof micro switches, detector switches, push button switches, tact switches, rocker switches, and other electronic switches. We have been dedicated to the research and development and production of switches for 30 years. The factory currently covers an area of approximately 20000 square meters and is equipped with high-standard laboratories. It also has over 10 automated production lines, over 200 auxiliary molds, and multiple excellent testing equipment. Our company has passed ISO9001 and IATF16949 quality management system certifications, and the switches have obtained UL, TUV, CE, CB, CQC, RoHS, and other certifications. With the joint efforts of all employees, we have established a one-stop service system covering product design, precision molding, injection molding, precision stamping, assembly, testing, mass production, after-sales, etc. KANGERLE aims to provide customers with professional micro switch solutions that support OEM/ODM. For more details, please visit the official website: